by Sindra, filed in Events, Games, PAX East on Mar.22, 2011
On March 22nd 1996, Capcom released the game titled "Biohazard" to Japanese audiences, and started a franchise that has spanned 15 years. Re-titled "Resident Evil" in the United States due to copyright constraints, the series that came to be known as one of the staples of survival-horror gaming has produced over as many games as years it's been alive, with 2 more on the way.
One of them, Resident Evil: The Mercenaries 3D, was a game we were able to take a look at at PAX East.

Check out what has gone on in this series that has spanned a decade and a half after the cut!

The Resident Evil series has done very well for itself after 15 years in production, with millions of game copies being sold worldwide. Banking on the success of zombie-horror due to the popularity of movies franchises like George Romero's "Dead" series, as well as the ambient thiller mystery and puzzle-solving elements of the games "Alone in the Dark" and "Sweet Home".
Here's a rundown of the games in the series thus far:
Main Series
1996 Resident Evil
1998 Resident Evil 2
1999 Resident Evil 3: Nemesis
2000 Resident Evil Code: Veronica
2002 Resident Evil Zero
2005 Resident Evil 4
2009 Resident Evil 5
Survivor Series
2000 Resident Evil: Survivor
2001 Resident Evil: Survivor 2 Code: Veronica
2003 Resident Evil: Dead Aim
Chronicles Series
2007 Resident Evil: The Umbrella Chronicles
2009 Resident Evil: The Darkside Chronicles
Outbreak Series
2003 Resident Evil Outbreak
2004 Resident Evil Outbreak File 2
Portable Games
2001 Resident Evil Gaiden (non-canon)
2006 Resident Evil: Deadly Silence
TBA Resident Evil Portable
2011 Resident Evil: Revelations
2011 Resident Evil: The Mercenaries 3D
Mobile Series
2001 Resident Evil: Zombie Buster
2004 Resident Evil: Assault the Nightmare
2005 Resident Evil: The Missions
2006 Resident Evil: Confidential Report
2008 Resident Evil: Genesis
2008 Resident Evil: Degeneration
2009 Resident Evil: Uprising
Many of the games, most notably Resident Evil 2 and Resident Evil 4, have been bestowed with multiple Game of the Year honors and frequently placed on lists of the best games ever made. A common criticism of the series is its odd placement of puzzles, though later games have re-tolled puzzle for better integration with the gameplay.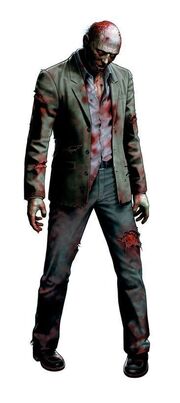 With the success of the games, the series branched into different types of media. Several comics and novels were created, most notably the Wildstorm comics with had several iterations, and the S.D. Perry books. In 2002, Paul Anderson got the rights to produce the Resident Evil film series starring Milla Jovovich, which has very loose interpretation of the game's canon. Due to fan outcry, Capcom produced CGI movies that stuck to previously-established canon and adheres to the game timeline to counterbalance. Various other merchandise has also been created, including toy lines by ToyBiz, NECA, and HotToys, as well as airsoft replicas by Tokyo Marui of various in-game firearms including the S.T.A.R.S. custom "Samurai Edge" Berettas.
Though the series has had stumbling blocks, like many long-term game franchises, it still proves to be one of the strongest leaders for Capcom and a progenitor of the survival-horror genre overall. Here's to another great 15 years!